Few stories of love have endured through time like that of the Claddagh story and tradition. The Claddagh ring isn't just a piece of Irish jewelry it is a story of eternal love, loyalty, and friendship that has captivated the hearts all who hear it. In other words, it is a romantic Irish tradition that has crossed all cultural boundaries.
The Claddagh story goes that long ago a young man was captured by invaders and sold into slavery from the fishing village of Claddagh. Many years passed and he wondered if his true love would wait for him. While in captivity over the years, he stole tiny bits of gold from his captor to make his love a ring. The ring was simple but symbolic. He fashioned a heart for love, a crown for loyalty, and hands as a symbol of friendship.
After many years, he finally returned home to the tiny fishing village of Claddagh near the Galway coast. Upon his return and to his joy he discovered his true love had waited for him. He gave her the ring as a symbol of their love, loyalty, and friendship forever known now as the Claddagh ring.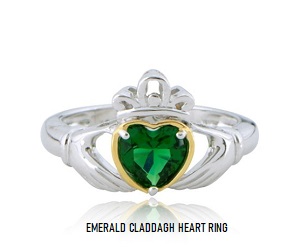 Where is Claddagh, Ireland?
Well the Irish word "cladach" literally means stony shore. For instance, this is how the village of Claddagh, Ireland got its name. Claddagh Just a bit away, past the cobbled stone streets of Galway City. A short walk across the Wolfe Tone Bridge and along the Galway Bay lays the village of Claddagh. Today this ancient fisherman's village is little more than a memory of its unique historical contribution to its country's culture. Remarkably, the story of the Claddagh will likely be carried into posterity by the ring that bears its name for eternity.
The celebrated Claddagh ring, as we know it today, stands as a monument to love and friendship. Moreover, it will forever be synonymous with Irish culture.
The design of the ring is unique, yet simple. The Claddagh ring has two hands embracing a single crowned heart. Its motto, not surprisingly, is "let love and friendship reign".  Traditionally the Claddagh ring can be worn in several different manners. All proclaiming a different status in the quest for love and their romantic life.
And as they say in that old Irish blessing "May your giving hand never fail you". Do you have someone in your life to which you pledge your love, loyalty, and friendship forever?

The claddagh ring is probably one of the most well-known types of Irish jewelry. In addition, did you know it is a wedding tradition that is an absolute must for any Irish wedding is the claddagh ring? The wearing of the Irish Claddagh ring is a tradition, rich in meaning and history. However, it can be misinterpreted if worn incorrectly. So be sure to wear your Claddagh ring on the left hand with the crown turned inward. Towards you on the left hand indicates marriage.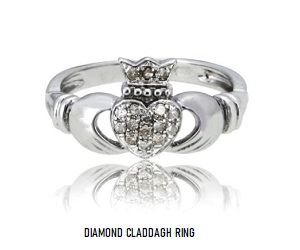 How to Wear a Claddagh Ring:
Firstly, to wear a Claddagh ring on the right hand with the crown turned inwards indicates that the wearer is single.
Secondly, wear a Claddagh ring on the right hand with the crown turned outward symbolizes that the wearer is being courted.
Thirdly, wear a Claddagh ring on the left hand with the crown turned inwards indicates a romantic engagement.
Fourthly, wear a Claddagh ring on the left hand with the crown turned outward on the left hand indicates marriage.
Furthermore, Claddagh rings are traditionally passed down from mother to daughter in Ireland.
Above all, Irish or not, the Claddagh ring is a romantic traditions treasured by many and loved around the world.
Ferns N Petals – 1000+ Flowers & Gifts For Your Special Moments.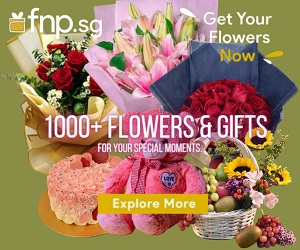 Ferns N Petals is a leading online florist and gifting brand that offers a huge collection of fresh flowers and gifts. We have mastered the art of delivering gorgeous floral arrangements, consisting of local and exotic blooms in unique designs. We started our business locally and became one of the best florists in Singapore for everyone in a span of 3 years. If you're searching for affordable flower delivery services in Singapore, then choose to send your gift with Ferns N Petals. Visit fnp.sg for new arrivals and promotion available on the store page.